The Austrian Partner in the Social Farming Social Impact project is Bildungshaus Schloss Retzhof.

The Retzhof Adult Education Centre is located in a beautiful refurbished castle and grounds in the Styrian wine region, and offers seminars and courses. The Retzhof has been a further educational institute of the state of Styria since 1948. Due to its decades-long importance for Austrian further education and its good and varied international contacts, the Retzhof has made its mark on further education both within Austria and beyond its borders. Its location makes the Retzhof especially interesting for cross-border cooperation and meetings with our neighbors in the Alpe-Adria region. Retzhof stands for quality and innovation in further education.
It has an international orientation and is non-denominational and cross-cultural. We plan and organize seminars, symposia, conferences, congresses, workshops and cultural events on topical themes, as well as stage active days and project weeks for schools. Our principle is lifelong learning. We also offer guests the opportunity to stage their own events at the Retzhof using the house's professional equipment. You can find our range of services on our website and in our magazine "Der Retzhof". We also have our own kitchen and the possibility of accommodation, with 80 beds.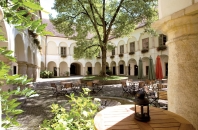 The new barrier-free guesthouse and the castle buildings with its seminar rooms and the Castle Tavern also offer the access to people with disabilities. The Retzhof Further Educational Institute strives to maintain the highest possible level of barrier-freedom by making available its infrastructure and educational opportunities to everyone. And in doing so, we're taking a step in a particular direction of inclusive education.
Please visit their website at http://www.retzhof.at